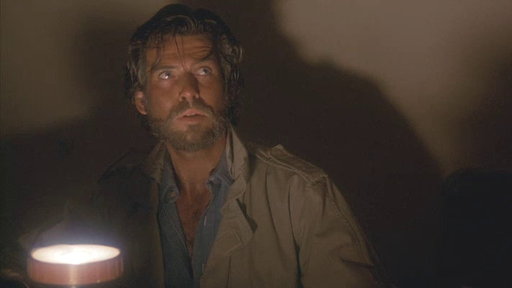 Man what a mess of a film. McTiernan is capable of giving us good movies and has done so, however I've heard that when he fails he does so in spectacular fashion. Which is probably one of the reasons he is no longer making movies in Hollywood, although I am aware of his legal troubles too. Sad considering that this is the man that gave us some really good and even great films. Nomads had a good movie in there somewhere, and in the second half I saw a couple of things that I really liked. However this is still a ridiculous movie and not in a good way-I actually started laughing by the end of the film, and that's not what you want in a movie that is supposed to be a horror thriller where the comedy is not intentional. Yikes.
The entire cast deserved better, and I'm guessing that Pierce Brosnan did this while he was still wrapped up in Remington Steele on TV. Lesley-Anne Down is given very little to do except act crazy, and therefore didn't even need to be in this movie. Nomads needed more second half chase and weird goings on excitement, and less pointless current events drama. In fact I would have just dropped the format and gone with straight flashbacks instead, building up to when the past converges with the present. I'm not saying it would have resulted in a better movie, but its a decision that would have improved some of the film at least.
Oh and the nomads themselves aren't creepy at all or even interesting, acting like rejects from a Mad Max film. I actually did enjoy the last shot, but it belonged in a much better film and one that wasn't so damn stupid. Roger Ebert God rest his soul was right about this movie, yet its all the more fun to visit a film he hated and discover for yourself just how awful it really is. Well sometimes.